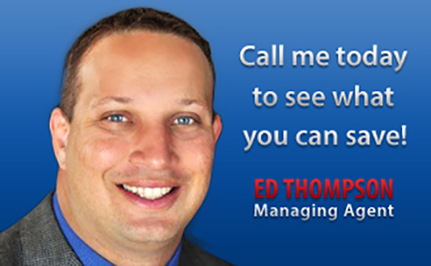 Welcome to Ed Thompson Insurance Agency
Located in Omaha, NE, Ed Thompson Insurance Agency strives to help residents find the insurance coverage that they are looking for. We are committed to providing our clients with excellent customer service.
Condo Insurance
Condo insurance will cover your property, as well as your valuables inside of the property. The policy will protect you if your property is damaged or any of your belongings on the property are damaged or stolen.
Motorcycle Insurance
Ed Thompson Insurance Agency is aware that many people enjoy riding their motorcycles through Nebraska's open plains. If you enjoy motorcycling, having motorcycle insurance can be a great asset. Motorcycle insurance includes collision coverage so that you will be protected if your motorcycle is involved in an accident. You'll also be protected if the other driver involved in the accident does not have insurance. The policy also covers you if your motorcycle is stolen or vandalized.
Flood Insurance
Floods are one of the most common natural disasters throughout the United States. Flood insurance protects your home and prevents you from potentially having to spend thousands of dollars on repairing damages.
Recreational Insurance
If you have a recreational vehicle, having recreational insurance will ensure that you are covered regardless of the situation. The policy covers any issues related to theft, vandalism, or storm damage, such as a tree branch cracking your RV. You'll also have personal injury protection.
Renters Insurance
If you are living in a rented apartment, it's crucial that you are protected. Renters insurance covers your belongings so that you can replace them if they are damaged or stolen. If someone, unfortunately, gets injured while they are visiting you, having renters insurance will prevent you from being held liable for their injuries.
Receive A Quote Within Seconds!
Here at Ed Thompson Insurance Agency, we are committed to helping you find the insurance coverage that you deserve. Stop by our office in Omaha, NE, or use our online tool to find a quote for home and auto insurance.